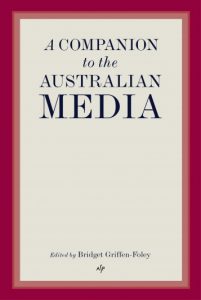 About the Companion
Order the book from the website here.
The Companion is generously underwritten by an Australian Research Council Discovery Grant and Queen Elizabeth II Fellowship, DP0877911.
Editorial Advisory Board
The Commissioning Editor, Professor Bridget Griffen-Foley, is chair of an Editorial Advisory Board consisting of a media practitioners and senior academics to advise on the parameters, headwords, word allocations and authors for A Companion to the Australian Media.
The composition of the Editorial Advisory Board is:
Eric Beecher, Chairman of Private Media Pty Ltd
Associate Professor Robert Crawford, University of Technology, Sydney
Mark Day, The Australian
Professor Jock Given, Swinburne University of Technology
Professor Bridget Griffen-Foley, Macquarie University
Emeritus Professor Ken Inglis, Australian National University
Dr Rod Kirkpatrick, Australian Newspaper History Group
Professor Michael Meadows, Griffith University
Emerita Associate Professor Gail Phillips, Murdoch University
Professor Julianne Schultz AM, editor, Griffith Review
Emeritus Professor Graeme Turner, University of Queensland
For contributors
All contributors to A Companion to the Australian Media have received individual letters of invitation.
Contents
Research tools
Keyword searchable bibliographies:
Reviews
'An impressive collection of knowledge [in which] tenacious myths are pricked … The book illuminates technological topics which I thought I would never understand. It is not just for the media. Every public library and senior school library should possess a copy.' — Geoffrey Blainey, Australian Book Review
'… a reference book that is thorough and authoritative, while being versatile enough to remain fascinating for casual browsers … the Companion is a wealthy source of information and a testament to the quality of the many talented authors who have contributed to it.' — Niels Kraaier, Australian Journalism Review
'A handsome volume, the product of a savvy and tenacious woman … a massive undertaking … there's wonderful serendipity in the printed form' — Mark Day, The Australian
'This is such an interesting book. In some ways that is simply a credit to its editor, the illustrious media historian Bridget Griffen-Foley, and her co-authors … Between them, they represent the best of more than one generation of critics, scholars, observers and practitioners of the Australian media.
Without such nation-building intellectual edifices in Anglophone media and scholarship alike, Australia is apt to disappear, as it does in most international collections …' — John Hartley, Media International Australia
Read the review in full here
'This book not only puts Australia firmly in the global media spotlight it also greatly enhances the world of media history by filling this gaping Southern hemisphere gap …
Throughout the volume and across a variety of themes, the smoothness of prose and continuity of style speaks eloquently of the assiduous attention to detail of the invisible editorial hand. I may still be an outsider to Australian media but as in the intention of this book I am now much better informed than I was before and I can turn to it again and again as I seek to renew my cross-references between Western European, North American and Australian media histories; both voyage of discovery and essential reference point. It should really be in every media library.' — Martin Conboy, Media History
Read the review in full here
Contact
The Editor:
Professor Bridget Griffen-Foley
Director, Centre for Media History
Faculty of Arts
Macquarie University NSW 2109
Australia
Tel: 61 2 9850 8828
Fax: 61 2 9850 2101
Email: b.foley@mq.edu.au
Twitter: @bgriffenfoley